Dear Laura,
This past weekend I saw your latest picture of you and your little girl. What a darling girl you have! There was so much happiness beaming from both of you. I imagine the hat she was wearing is of your making since it is so unique and lovely. Your desire to continue to learn new skills in sewing and other areas are evident. It brings me much joy to see you pouring yourself out into your family. They are certainly blessed by your care of them.
Yesterday we heard some very sad news of an acquaintance of ours who passed away unexpectedly. She had been married for over 30 years and had many children. Her family is testifying of her love for the Lord and their trust in Him to see them through this difficult time. She was much loved and obviously poured her life into her family. Her children are rising up and blessing her, and her husband is praising her.
I find this woman's life inspiring and in quite contrast to a story that I learned of while going through more of my family's history. There's a picture from the very early 1900's of my great aunt, her husband and two very small children.  Apparently she took her own life shortly after that picture had been taken, and she was only 21 years old. Growing up I don't remember anyone ever speaking of her other than there was another sister who died young. What a sad legacy.
These two stories make me think of Proverbs 14:1 – "The wisest of women builds her house, but folly with her own hands tears it down." May the grace of our Lord fill you and me with the wisdom that we need for all our days.
Give your family our love and hugs. May the Lord bless you and keep you!
Love,
Robin
I want PATIENCE and I want it NOW!  Just kidding….join me over at Raising Homemakers today for my latest post on the Fruit of the Spirit and download our free embroidery pattern of "Patience" while it lasts.
The winner of June Fuentes' wonderful new book is Kaylee from A Day in the Life: Missionary Wife.
Congratulations Kaylee!
For everyone else, you can still buy June's book at TrueChristianMotherhood.com.
I highly recommend it!
Several years ago when I first started looking for encouraging "Titus-2-type" blogs, I came  across June Fuentes' A Wise Woman Builds Her Home. It was such a breath of fresh air to read her posts about beautiful femininity, the blessing of children, being a godly wife and building a godly home. June's writing has continued to bless me as her writing illustrates a hopeful picture of family life.
Over a year ago our family was blessed to meet the Fuentes family and spend some sweet time of fellowship together. Meeting June and seeing her interact with her family made everything that she had written that much sweeter. I could see the wisdom that the Lord had given her being fleshed out.
What a treat to now offer to one my readers June's new eBook called True Christian Motherhood.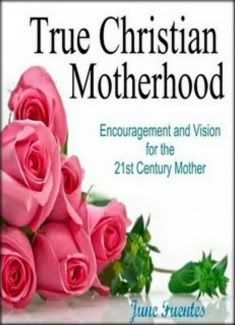 This ebook is a heartening work that will inspire you to follow the Lord, build your home on His truths, help you to develop a vision for beautiful womanhood, and how that will effect the culture of your home.
There are so many chapters that I thought, "Oh, this is my favorite chapter" and then I would read another chapter and think the same thing. So needless to say, I found the entire book a true joy. This book is timeless in it's exhortation and would make a great gift for a new wife or mother, a wonderful guide to mentor another woman with, or to use as a bible study.
 —
To enter this give-away, simply leave a comment.
You can have additional entries by sharing about this give-away on Facebook, Twitter, your blog or emailing your friends. Just be sure to add a comment for each additional entry.
Comments for entries now closed.

Winner will be announced on Tuesday, November 15.
Illustration Courtesy of BreezyTulip's Studio
We have been given our assignment: the wise woman is to build her home (Proverbs 14:1a).
As I mentioned in Part One, this means "nurturing and training our family. Building relationships that will endure and thrive in this chaotic world. Making the Lord Jesus Christ the center of your home." But how does that look……..

Continue reading at Raising Homemakers!
Illustration Courtesy of BreezyTulip's Studio
Thinking about homemaking brings to my mind many different ideas, but the main thing that stands out is the need for us mothers & wives to build our homes. The kind of building that you don't see immediately with the eyes…..
Continue reading at Raising Homemakers
Agenda
Posted on October 30th, 2010
AGENDA: Grinding America Down (Trailer) from Copybook Heading Productions LLC.
Click here to visit the "Agenda: Grinding America Down" movie website.