I adapted our favorite zucchini bread recipe into a gluten-free and grain-free version that is, well, wonderful. See my post over at Raising Homemakers, where I share both the old and new versions of the recipe.
Dear Sarah,
Today, being the second day of spring, is quite cold with a light sprinkling of snow on the ground. I can't say I don't long for warm sunshine, green grass, and flowers blooming, but the Lord is continuing to teach me to be content.
This past winter has been such a long, cold winter- the lack of warm sunshine can make things rather dreary. We were told by a friend that anyone living in colder regions should take extra Vitamin D through the winter months. We took that advice and believe it to be indeed helpful.
Something else that has helped through this winter is to keep busy, very busy with projects. Not only are the projects a delight to work on, it keeps us from dwelling on spring. We need to find joy and contentment in the Lord even when the sun is not warming us up.
I just finished rereading "Stepping Heavenward" by Elizabeth Prentiss. It's the story is of the young Katy as she journals her life from the age of 16 throughout her adult life as a wife and mother. The lessons she learns as she grows from a self-centered young lady to a godly older woman are so precious. It continues to be one of my favorite books, and I am encouraged in my walk with the Lord every time I read it.
One of my favorite quotes from the book is about thinking rightly. Katy is exclaiming to her future husband how "she has to say what she thinks" and he replies "It is well to think rightly then". Oh, yes, we must take every thought captive to the obedience of Christ. It is so easy to think wrong thoughts and to indulge ourselves in them. Mulling them over and over, changing the reality of a situation into our own made-up version. We have to tell ourselves "no!" Putting off bad thoughts and putting on biblical thoughts. We need to exercise this throughout our lives. Just like physical exercise, this does become easier with time, but we must be diligent in it.
"Casting down imaginations, and every high thing that exalteth itself against the knowledge of God, and bringing into captivity every thought to the obedience of Christ." (2 Cor. 10:5)
You asked me for my recipe for freezer chocolate; I'd be happy to share it with you.
Freezer Chocolate
1/2 c. coconut oil
1/2 c. honey, preferably raw
1/4 c. cocoa
1 tsp. vanilla
Options for flavored chocolate: adding peppermint or orange extract or oil.
Mix well in blender. Pour into a pie dish and put in freezer, uncovered. Check after an hour or so. You can cover it up after it sets up. Once it sets up, slice and serve. It may need to set out for a few minutes before slicing. If there are any leftovers keep them in the freezer or refrigerator. If you need chocolate immediately you can enjoy it straight out of the blender. You may notice some of the coconut oil separating and turning white when it freezes, just make sure to blend it better next time.
I am looking forward to hearing from soon. May the Lord bless you and keep you.
Love,
Robin
Dear Sarah,
It was so good to hear from you. I love to hear how you are growing in the Lord. It has been my experience that the more I pray and read God's word the more joyful I am. It's such a blessing to know you are experiencing that true joy as well.
This past week we had a family over for dinner. They had an extra guest with them, a fine young man who is courting their eldest daughter. He was a very godly young man who held his own at our constant questioning. I do believe he will make their daughter a wonderful husband. We are looking forward to seeing how their courtship progresses.
We served vegetable soup with homemade crackers (gluten free). They asked for the recipe so I thought I would enclose it for you too.might like to have it too. It's a good soup to feed a small crowd, or your family with lots of leftovers. I froze the leftovers from that meal and took it to church for a family who had just suffered a miscarriage. It was a blessing to be able to feed two other family with that meal.
Vegetable Soup
Beef broth
tomato sauce
browned ground beef
diced onion, cooked with the ground beef
diced potatoes
sliced carrots
green beans
peas
2 – 3 bay leaves
seal salt
pepper
I left out the amounts so that you can just adjust it as you like. You can also leave out any of the veggies that you don't like and feel free to add in anything else. The main taste is from the beef broth, tomato sauce and bay leaves. Sometimes I will put in roast meat in addition to ground beef. That's usually the best! This is an easy meal to put together using the healthiest ingredients you can find. Sometimes I cook up the veggies in my pressure cooker before I put them in the soup, so it doesn't take so long to cook. This could also be put in a slow cooker in the morning.
Cooking soups like this will help you become more confident in your cooking and not so dependent on recipes. I still love using recipes, but sometimes it is nice to just cook and not have to look at one.
I am looking forward to hearing about your trip, do write as soon as you can.
May the Lord bless you and keep you,
Love,
Robin
One of the areas that I have needed to grow in wisdom has been our diet. For most of our lives our family has eaten a typical Standard American Diet. When we saw our parents' health decline several years ago, we made a few changes, mainly by making our own whole-wheat bread from freshly ground wheat berries. Oh, that was so good and satisfying!
Then about a year and a half ago something came along and rocked our world……………….read the rest over at Raising Homemakers and enter to win one of my favorite books, Health for Godly Generations by Renée DeGroot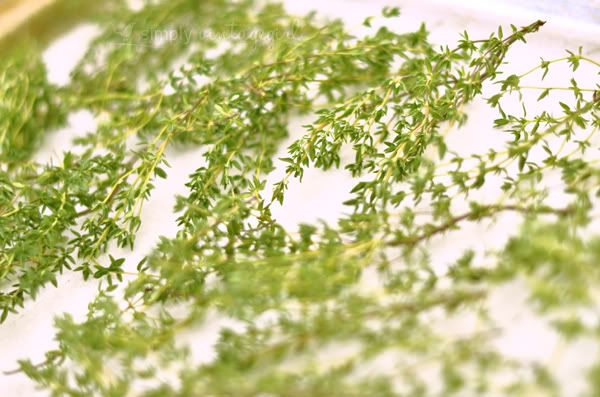 Our garden is flourishing right now. Even in this sweltering heat that we have been having with little rain it is flourishing. I have been tending to it in the mornings before the heat sets in and my husband waters it in the evening after the sun starts to set.

When I am out in the garden my mind wanders toward God and how much gardens can mimic life. How He created such diversity and beauty amazes me everyday. This French thyme from our garden above is so delicate and smells wonderful, yet it seems to grow so much sturdier than the zucchini that took off, produced a bunch of squash and then flopped over and died.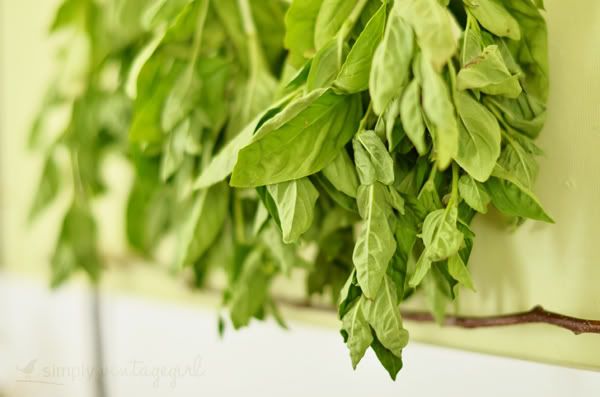 I harvested some of our basil and hung it up to dry and then realized with the high humidity in the air it would be best to dry them for a short time in a low oven. As in life, always the need to re-evaluate what we are doing and why.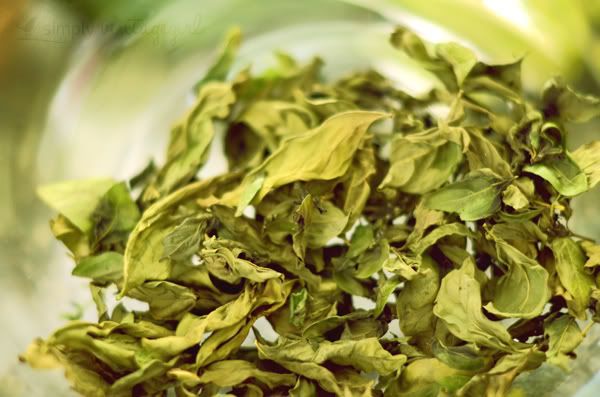 The basil made our home smell wonderful while it was drying. This is the first year that I am actually harvesting and preserving from our herb garden. Normally, I would just use it fresh and just enjoy the plants. But this year is different. I am trying to be much more intentional in what I am doing and that means preserving my herbs. Maybe, just like in life, I am trying to preserve the memory as well.
This year I decided to change the way I stored my recipes. I wanted something that was easy to read, standing up and it needed to be cute!  Hop on over to Raising Homemakers today to see my tutorial on making my standing recipe holder.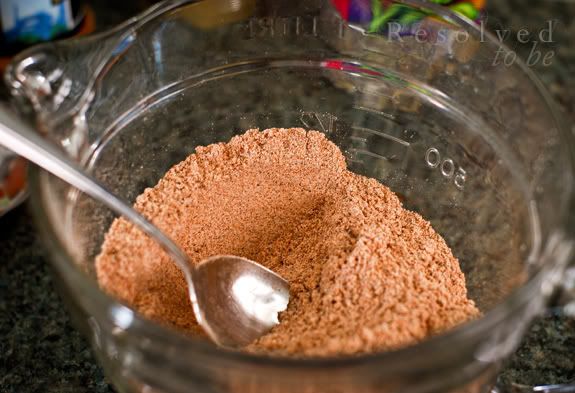 A couple of years ago I started making my own mix for Mexican seasoning and now that we are eating gluten free (GF) I am so thankful that I have this recipe. Wheat flour is one of the first ingredients in taco seasoning packages. So here is my gluten free version. It can easily be made "normal" with regular flour if you prefer.
GF Mexican Seasoning
1/2 cup Gluten Free flour mix
4 T chili powder
1/2 cup onion powder
4 tsp. garlic powder
1 tsp salt or less
8 tsp paprika
1 tsp cayenne pepper
4 tsp sugar
4 tsp cumin
2 tsp oregano
Mix together and store in jar. Label the jar so you don't forget what is in it and so others will know what it is. Label the jar GF Mexican Seasoning – use 3 T. with each lb of meat.
You could stir in a little water after adding the seasoning if you want.
GF Enchilada Sauce
6 oz can tomato paste
3 cups water
2 tsp cayenne pepper
1 tsp salt
2 tsp cornstarch or tapioca starch
2 tsp white vinegar
2 tsp onion powder
In saucepan, combine all of the ingredients. Heat the sauce to boiling over medium heat while constantly stirring. Continue to boil and stir for another 2 to 4 minutes until it thickens.
Remove from heat and cool. Can be stored in jar with an airtight lid in refrigerator for 2 to 3 months. Can be used as enchilada sauce or hot sauce on tacos.
You can adjust the hotness by decreasing or increasing the cayenne pepper.