When our daughters were little they had way too many toys – too many to count, actually. But that started to change as our ideas about family economy and industry in the home changed. Instead of buying toys, we began to invest in tools for our daughters, even at their young ages – tools that would help them cultivate interests, develop skills, and hopefully be a blessing to the home and economies of their future families…. Read the rest of the story over at Raising Homemakers.
Dear Laura,
This past weekend I saw your latest picture of you and your little girl. What a darling girl you have! There was so much happiness beaming from both of you. I imagine the hat she was wearing is of your making since it is so unique and lovely. Your desire to continue to learn new skills in sewing and other areas are evident. It brings me much joy to see you pouring yourself out into your family. They are certainly blessed by your care of them.
Yesterday we heard some very sad news of an acquaintance of ours who passed away unexpectedly. She had been married for over 30 years and had many children. Her family is testifying of her love for the Lord and their trust in Him to see them through this difficult time. She was much loved and obviously poured her life into her family. Her children are rising up and blessing her, and her husband is praising her.
I find this woman's life inspiring and in quite contrast to a story that I learned of while going through more of my family's history. There's a picture from the very early 1900's of my great aunt, her husband and two very small children.  Apparently she took her own life shortly after that picture had been taken, and she was only 21 years old. Growing up I don't remember anyone ever speaking of her other than there was another sister who died young. What a sad legacy.
These two stories make me think of Proverbs 14:1 – "The wisest of women builds her house, but folly with her own hands tears it down." May the grace of our Lord fill you and me with the wisdom that we need for all our days.
Give your family our love and hugs. May the Lord bless you and keep you!
Love,
Robin
Dear Sarah,
Today, being the second day of spring, is quite cold with a light sprinkling of snow on the ground. I can't say I don't long for warm sunshine, green grass, and flowers blooming, but the Lord is continuing to teach me to be content.
This past winter has been such a long, cold winter- the lack of warm sunshine can make things rather dreary. We were told by a friend that anyone living in colder regions should take extra Vitamin D through the winter months. We took that advice and believe it to be indeed helpful.
Something else that has helped through this winter is to keep busy, very busy with projects. Not only are the projects a delight to work on, it keeps us from dwelling on spring. We need to find joy and contentment in the Lord even when the sun is not warming us up.
I just finished rereading "Stepping Heavenward" by Elizabeth Prentiss. It's the story is of the young Katy as she journals her life from the age of 16 throughout her adult life as a wife and mother. The lessons she learns as she grows from a self-centered young lady to a godly older woman are so precious. It continues to be one of my favorite books, and I am encouraged in my walk with the Lord every time I read it.
One of my favorite quotes from the book is about thinking rightly. Katy is exclaiming to her future husband how "she has to say what she thinks" and he replies "It is well to think rightly then". Oh, yes, we must take every thought captive to the obedience of Christ. It is so easy to think wrong thoughts and to indulge ourselves in them. Mulling them over and over, changing the reality of a situation into our own made-up version. We have to tell ourselves "no!" Putting off bad thoughts and putting on biblical thoughts. We need to exercise this throughout our lives. Just like physical exercise, this does become easier with time, but we must be diligent in it.
"Casting down imaginations, and every high thing that exalteth itself against the knowledge of God, and bringing into captivity every thought to the obedience of Christ." (2 Cor. 10:5)
You asked me for my recipe for freezer chocolate; I'd be happy to share it with you.
Freezer Chocolate
1/2 c. coconut oil
1/2 c. honey, preferably raw
1/4 c. cocoa
1 tsp. vanilla
Options for flavored chocolate: adding peppermint or orange extract or oil.
Mix well in blender. Pour into a pie dish and put in freezer, uncovered. Check after an hour or so. You can cover it up after it sets up. Once it sets up, slice and serve. It may need to set out for a few minutes before slicing. If there are any leftovers keep them in the freezer or refrigerator. If you need chocolate immediately you can enjoy it straight out of the blender. You may notice some of the coconut oil separating and turning white when it freezes, just make sure to blend it better next time.
I am looking forward to hearing from soon. May the Lord bless you and keep you.
Love,
Robin
The final post in the Fruit of the Spirit series is up at Raising Homemakers. You can download the free embroidery pattern that is included in the post until February 8th.
Looking back over the past year, I realized it was probably one of our family's busiest years. So needless to say, this blog suffered for it. I hope to be more active here and not neglect it, busy or not!
Have a blessed day!
I am having such a wonderful time stitching up these samplers. It feels like I am painting on the material.
You can read my latest post on the Fruit of the Spirit series over at Raising Homemakers. It includes the PDF embroidery pattern for Kindness, it will be available for FREE until August 10th.
I want PATIENCE and I want it NOW!  Just kidding….join me over at Raising Homemakers today for my latest post on the Fruit of the Spirit and download our free embroidery pattern of "Patience" while it lasts.
Have you ever read or heard something that was simple, to the point, and really stuck with you?
Here is the latest one for me.
"Don't be disappointed in the results that don't happen, because of the things you didn't do."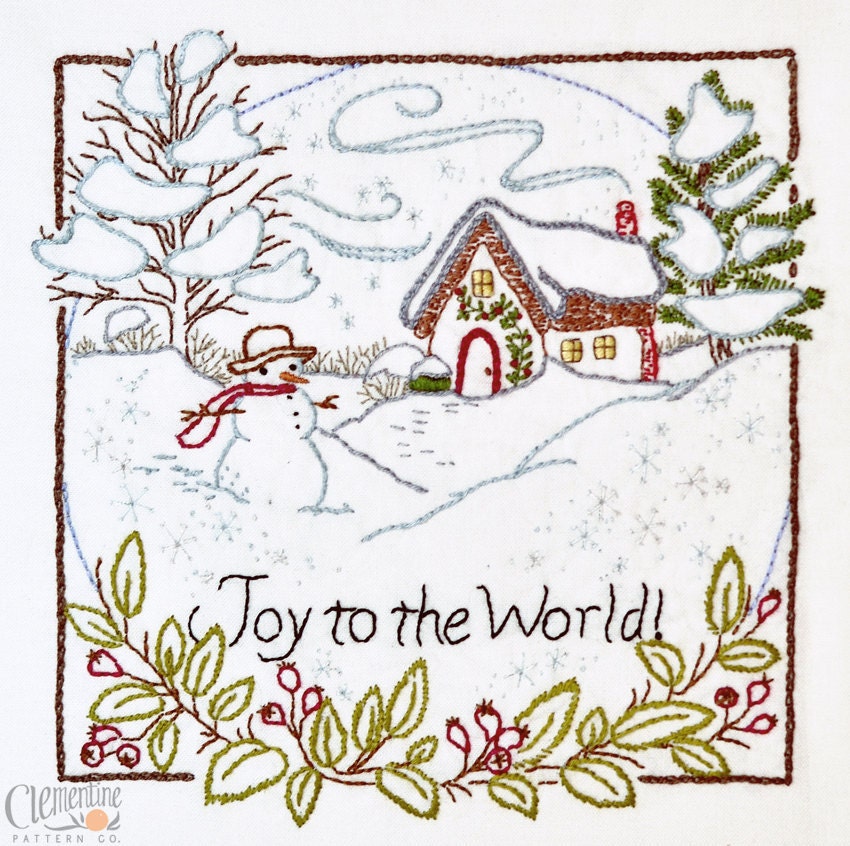 May you and your family rejoice in the Lord. And may His steadfast love be ever a reminder of His great mercy.
Joy to the world! the Lord is come!
Let earth receive her King;
Let every heart prepare him room,
And heav'n and nature sing.
Joy to the earth! the Savior reigns!
Let men their songs employ,
While fields and floods, rocks, hills, and plains,
Repeat the sounding joy.
No more let sins and sorrows grow,
Nor thorns infest the ground;
He comes to make his blessings flow
Far as the curse is found.
He rules the world with truth and grace,
And makes the nations prove
The glories of his righteousness,
And wonders of his love.
-Isaac Watts