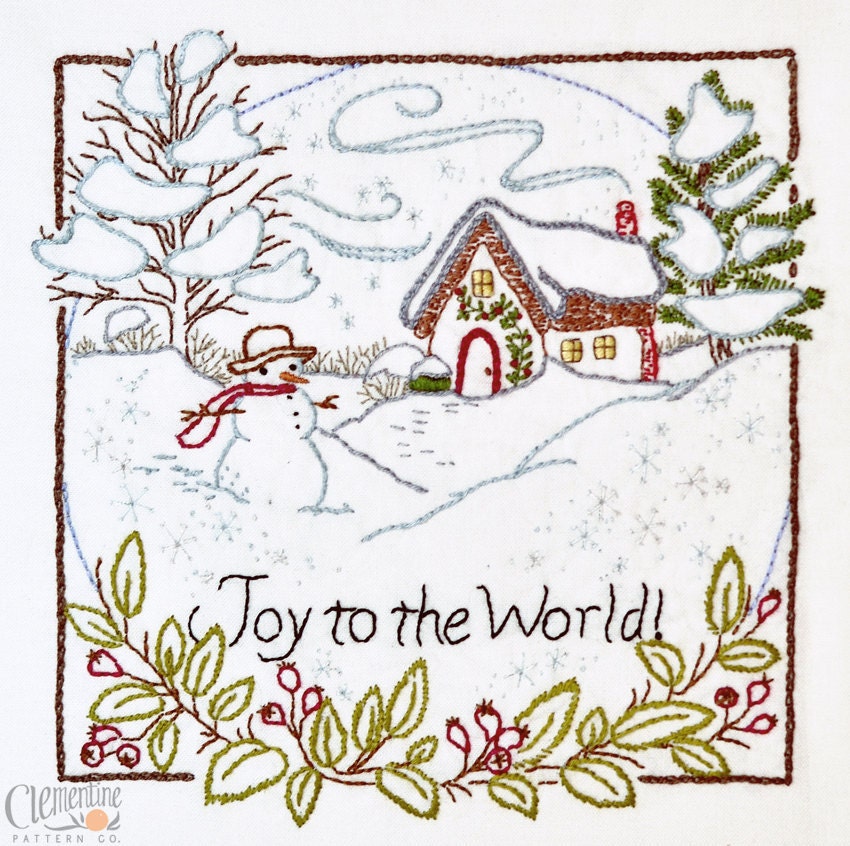 May you and your family rejoice in the Lord. And may His steadfast love be ever a reminder of His great mercy.
Joy to the world! the Lord is come!
Let earth receive her King;
Let every heart prepare him room,
And heav'n and nature sing.
Joy to the earth! the Savior reigns!
Let men their songs employ,
While fields and floods, rocks, hills, and plains,
Repeat the sounding joy.
No more let sins and sorrows grow,
Nor thorns infest the ground;
He comes to make his blessings flow
Far as the curse is found.
He rules the world with truth and grace,
And makes the nations prove
The glories of his righteousness,
And wonders of his love.
-Isaac Watts
My last homemade Christmas post will be about the little embroidered ornaments that I made for our tree this year. I was inspired by Natalie at Cinderberry Stitches to create something a little different than a framed embroidery piece. I think her work is simply adorable.
I asked Breezy to write out a few words for me and then to draw some simple little swirls and flowers for me on an index card. I went over the designs with a darker pen and then picked some of the designs and transferred them onto a piece of muslin. I used a light box to transfer the design to the material, but I have used a window before with equal success. I wrote directly on the muslin with a fine-tip Zig pen. With it being fine-tip you can stitch right over the top of it and it won't be seen.
I put a second layer of muslin behind the piece with the design so that there would be a double layer. This helps hide the threads that might show through from the back. The stitches I used were a straight stitch, daisy stitch, french knot and blanket stitch. You can find a nice stitch directory here.
After I stitched the front pieces, I cut out the square along with muslin for the back. I did a blanket stitch along the outside edge of all the layers, stuffing a small amount of fiber-fill inside before I completely closed it. A long piece of embroidery floss was used to make the hanging loop.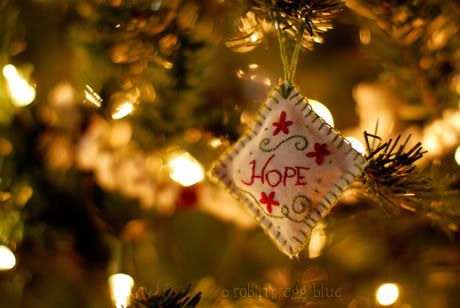 One of the funnest things about this homemade gift was that I was able to actually surprise Breezy and Emily Rose with them. As I worked on them they thought I was just working on the ones for our tree, ha, but I was faster than they thought.
I think that we are planning on putting the designs up on Emily Rose's blog so that if anyone wants to use the patterns they can. When we do I will put the link here.
This homemade Christmas post is more of a homemade winter post. Let me show you how I make my crocheted snowflakes.

Several years ago, I made a variety of snowflakes to use for decorations. I usually leave these these snowflakes up in a window all winter.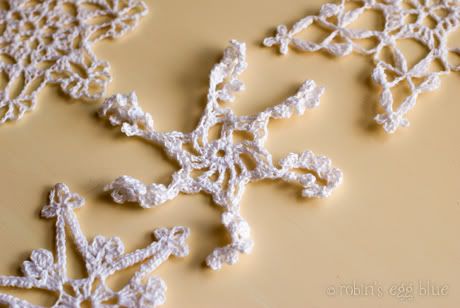 I start out using a thin cotton thread like this and a steel crochet hook like one of these.
If you already know how to crochet than these are really simple to work up. If you haven't crocheted before I would suggest doing some other practice pieces before attempting these. I found my patterns in books and magazines, but there are several free patterns online. You can find some here.
The snowflake in the middle of the picture above still needs to be stiffened.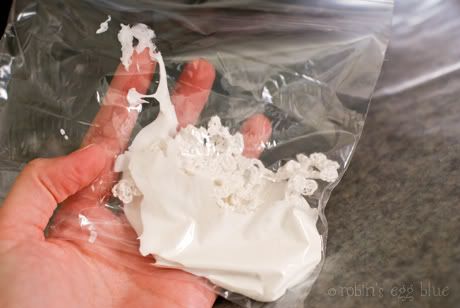 I use a glue like Aleene's Fabric Stiffener. You can put it in a little bowl or a plastic bag.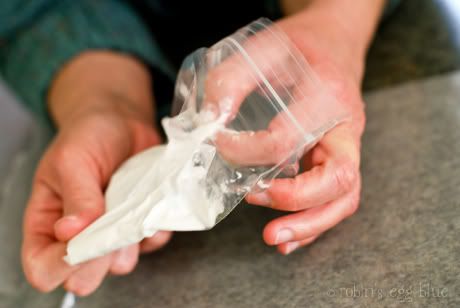 Just swirl the snowflake around in the glue to coat it, remove it making sure to squeeze out the excess glue.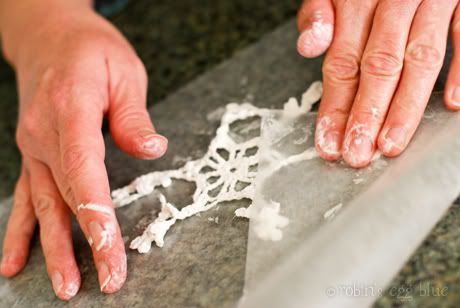 This part is a little tricky. You need to start reshaping the snowflake and making sure that nothing is twisted.
I pin it onto a piece of styrofoam that has been covered in plastic wrap.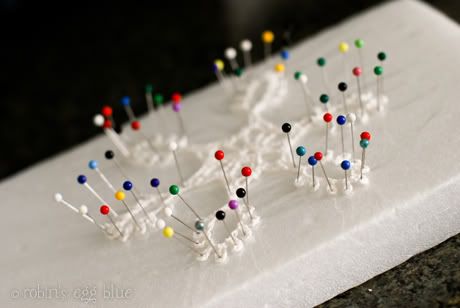 I pin all the little loops so that the snowflake is in the correct shape and then just let it dry for a day or two. An important thing to think about is the type of pins you are using. If they are not stainless steel they may leave a small rust mark, so….either take them out right away and just leave flat or make sure they are stainless steel.
When you are storing them just be sure to have them lay flat and they should keep their shape for years to come.
You can go to Simply Vintagegirl for more Homemade Christmas ideas.
There is just something about homemade Christmas gifts that make gift-giving so delightful. I love what
Emily Rose
said on her blog about homemade gifts –
"The one who receives the gift, sees the decoration, or enjoys the dish will know and remember that those things were not there because we ran out of time, but because we took the time."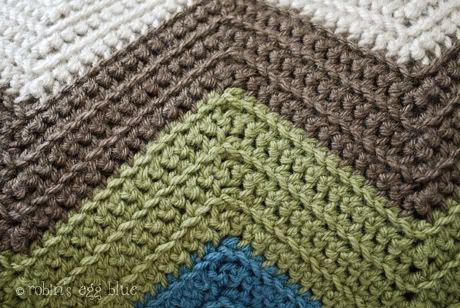 This year I have definitely been taking some time to make my daughters both an afghan. Not that I am taking my time and trying to make it seem special because it has taken me so long, it's just that I am a little slow with this project.
Last year after Christmas I was able to purchase yarn on sale so that I could make my daughters both an afghan like the one that their Great-Grandma Carmella made for my husband. We decided I would alter the pattern a bit and make it more of a wave instead of a V shape. After several months of messing with them, I decided it just wasn't going to happen; I had to keep count all the time while I was crocheting and it was not going very fast, so I unraveled all that I had crocheted and began again. This time I went back to the traditional V shape and it has gone so much faster.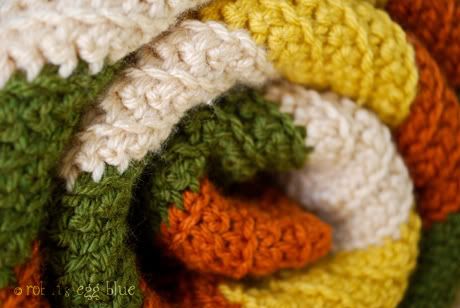 I let the girls choose their own colors. Emily Rose's is above and Breezy's is below.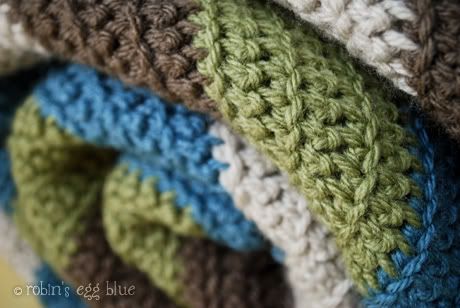 One of the challenges of making gifts for family members in the same home is trying to keep them from seeing the gift while you are making them. Since I had the girls pick out their colors and it was going to be a bigger project, I knew that I wasn't going to be able to do this in secret. As the blankets have "grown" I began to roll them up so the girls couldn't see how big they were and how much more I had to do.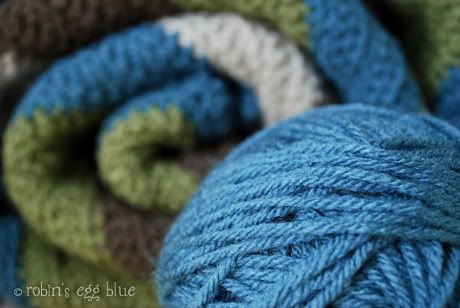 One thing that has been fun about making two at the same time is that when I grew tired of the same colors over and over I could just switch projects. I used Vanna's Choice yarn that I bought at JoAnn's Fabrics last year; it is one of my favorite yarns. The pattern that I used is called Chevron and I used this pattern as a base and then just made it much wider by about 90 stitches and I will not be adding any fringe.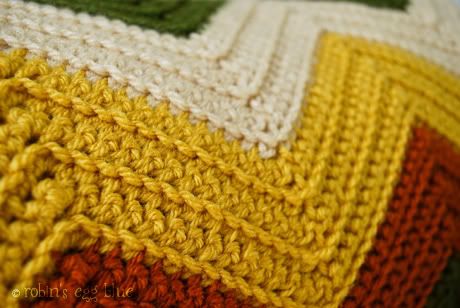 Emily Rose is hosting "A Homemade Christmas" on her blog over the next several weeks. If you want to join in on the fun of sharing ideas about homemade gifts and gleaning from others, you can click here.
Dates to participate in A Homemade Christmas:
• November 17th
• December 1st
• December 15th
• December 29th (wrap-up with projects/gifts we couldn't share before Christmas)
The main/opening dates are listed above, but the linkys will be open two weeks after the beginning date so that you have plenty of time to get in your posts.
Did you have a homemade Christmas? My daughters both surprised me with some sweet gifts. I had seen them, but I didn't know they were going to be for me.
Emily Rose gave me this wonderful perpetual calendar. It has been hanging in my kitchen and adding such an artsy flair. On Christmas morning there was a little tag added to the 25th that said it was for me. Yippee!!! It had made me a little sad thinking that it wouldn't always be there, but it will now!
Breezy made each of us a beautiful, personalized decoupaged notebook. Rob's had an ocean scene with a sailboat on it, Emily's had old fashioned hats and mine had flowers and vines on it. She also gave me this little pillow. I thought this was such a lovely embroidery and again I didn't know it was for me; what a sweet surprise. And yes, it is bringing an over-arching aesthetic stimuli gracing our abode……..it's cute.
On Christmas day we gathered at my mother's and I gave some family members each a Ball jar of homemade laundry soap. I made some earlier this fall and I have been very pleased with the results so I thought what a better way to introduce someone to it then to give them some already to go. Some other recipes for homemade laundry soap can be found here. Even though this seems like a strange gift it was actually a big hit.
I enjoyed doing this series of a Homemade Christmas. It was a lot of fun making different things and thinking about giving gifts to loved ones. I didn't end up making as much as I had planned, but that happens. I was sick with the flu the week before Christmas so some of my plans flew out the window. Even though I had been working on these posts for several weeks I had still put off some things to the end. Note to self: start earlier and be more diligent!
When you homeschool and your children are around you most of the time it can be hard to make things and keep them from finding out. When the girls gave me gifts this year that I had already seen, they were still a surprise and very much appreciated. So with all that in mind I have already started next years gifts to my daughters. I am making them afghans and I even had them pick out the colors. Yarn was on sale at JoAnn's and so I have started making them both an afghan and I even had them pick out the colors. Maybe I will get them done way before Christmas and they will forget what they look like and will be all surprised.
Wishful thinking.
If you gave or received any homemade gifts this year and have posted them you can link up with Simply Vintagegirl and share your ideas.
I hope you all had a Wonderfully, Merry Christmas and wishing you a Joyous and Blessed New Year!
This year we used a Jesse Tree devotional and used the ornaments that were included in the devotional. While my husband read to us each night from the scriptures, he used the devotional only as a reference for the scripture reading. It was a special treat to read through scripture with the focus on the coming birth of our Savior. Here is a picture of our little tree that we used to put the Jesse Tree ornaments on.
The artwork that came with the devotion was very pretty. We just printed it out on cardstock.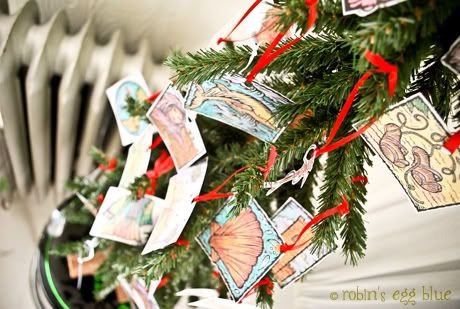 There seems to be a lot of resources for the Jesse Tree devotions and ornaments to go along with it. I think for next year we will research this a little more and perhaps even make our own ornaments.
On Christmas morning each year I make Monkey Bread (aka pluckett). It makes the house smell all wonderful and warm. These are made with store bought biscuits, everything doesn't have to be completely homemade, right?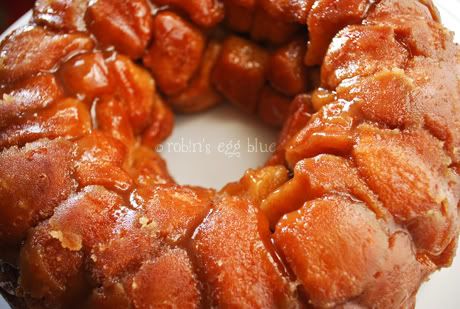 Monkey Bread
3 cans buttermilk biscuits
1 c. sugar
2 tsp. cinnamon
1 c. brown sugar
1 stick butter
Cut each biscuit in quarters. Shake biscuits in bag with sugar and cinnamon. Layer biscuits in a greased bundt cake pan. You can sprinkle nuts in between layers if you like.
In a small pan melt brown sugar and butter together and boil for minute. Pour over biscuits and bake in 350 degree oven for 30 minutes. Cool 10 minutes and invert on plate. To serve, just pinch off and eat with fingers. Or for a more civilized serving, cut and serve on plates and eat with forks.
I have really enjoyed this series on A Homemade Christmas. Simply Vintagegirl (my little girl) has done a wonderful job hosting this. Next week, Jan 1st, will be the last in this series. I hope you can join in then and maybe post some of those items that you had to keep a secret.
Here is the picture that we sent out in our Christmas cards this year.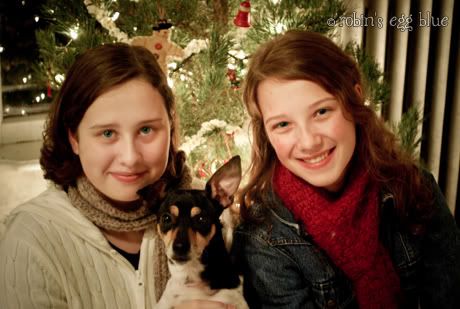 Emily Rose, Bently Scribbles and Breezy Tulip.
We want to wish you all a very Merry Christmas!
One of our Christmas traditions is making cut-out sugar cookies. Every Christmas eve we make the cookies and then we all sit and decorate them together. We have them baked and ready to be iced. These are so full of butter, we don't dare make them but once a year!
You can get the recipe here.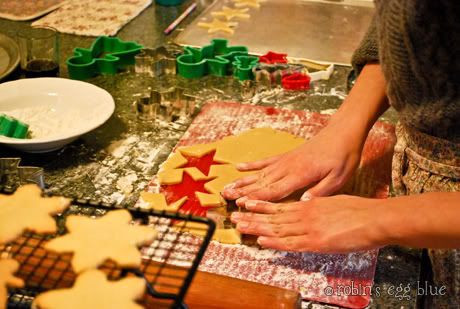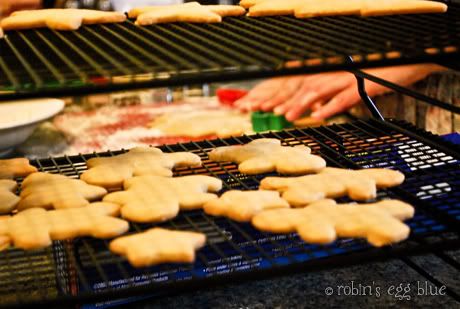 We are going to ice our cookies, have supper, and then go over the last of our Jesse Tree devotions.
We have never done a Jesse Tree before so this has been an extra treat this year. It's a wonderful way to celebrate the coming birth of Christ and help keep our focus on Him.
I will post more about it tomorrow on my Homemade Christmas post.
I hope you all have a Wonderful Christmas celebration!
I didn't post last week about a Homemade Christmas so I will double up here and give several recipes from our kitchen.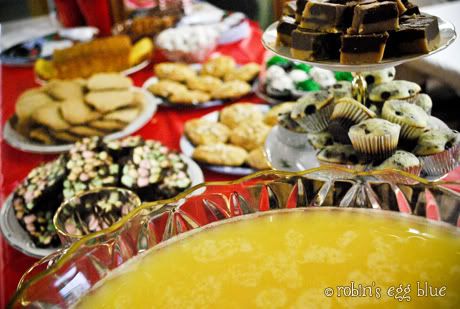 Kathy's Wonderful Banana Punch
1 12 oz. frozen lemonade, slightly thawed
2 12 oz. frozen orange juice, slightly thawed
1 46 oz. canned pineapple juice
2 cups sugar
6 cups water
5-6 smashed bananas
1 2L. Sprite or Sierra Mist
Mix first six ingredients in large freezable container, like an ice cream tub. Freeze overnight.
Put frozen punch in punch bowl an hour or two before serving, so it will start thawing. Pour Sprite over punch and let set for about 15 minutes. Take large knife (be careful) and begin to break apart frozen punch and mix it all together so that it is all slushy.
This can also just be made all at once and not frozen, like in the above photo.
This punch is from my friend, Kathy, she serves it to her family every Christmas and so we decided to do that, too. I serve this at my mother's on Christmas Day, it's a Big Hit! This picture is from a Christmas Tea Party that we had at our church last Sunday afternoon.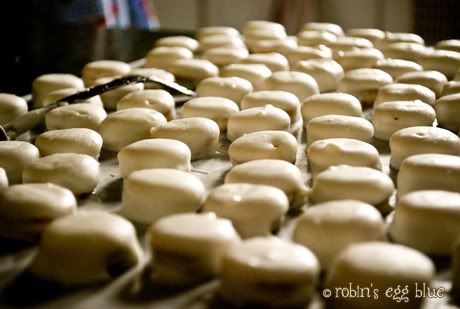 White Chocolate Covered Ritz Bits
1 pkg. white Almond Bark
1 box Peanut Butter Ritz Bits
Melt almond bark (white chocolate) according to directions on package. Dip Ritz Bits in melted chocolate and place on wax paper till set. Try not to eat them all so that you can share – that is the hardest part.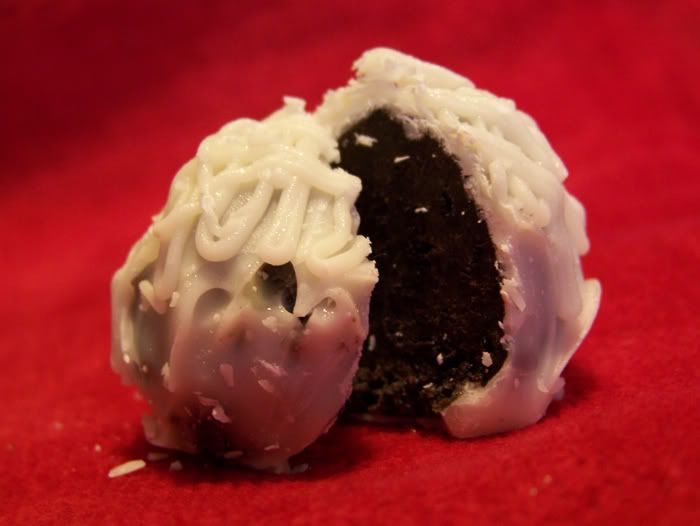 Oreo Truffles aka Beluga Babies
1 pkg. Oreos, crushed
1 8 oz. pkg. light cream cheese, softened
1 pkg. white Almond Bark
You will need a cookie sheet that will fit in your freezer.
Mix the crushed Oreos and softened cream cheese. Shape into walnut sized balls, place on wax paper that is on a cookie sheet. Place the balls on the cookie sheet in the freezer for 15 minutes. Melt almond bark according to directions on package. Dip the Oreo balls in melted almond bark and let set till hard. You can take some extra melted almond bark and put into a plastic baggie, cut a tiny bit of the corner off and drizzle a little decorative line on top of the truffles. These can be frozen. Store in refrigerator.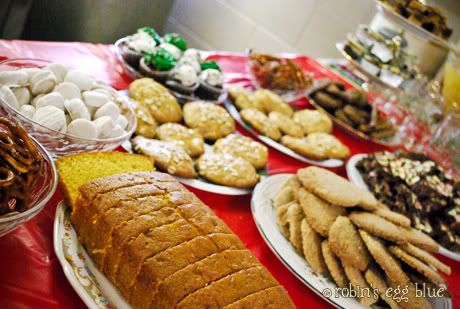 Lemon Poppy Seed Bread
1 box lemon cake mix
1 small box instant lemon pudding mix
4 eggs
1 c. water
1/2 c. oil
1 -2 tsp. poppy seed
Mix first 5 ingredients together. Stir in poppy seeds. Pour into two greased* loaf pans. Bake for 45 minutes at 350 degrees. Cool in pans 10 minutes.
*I usually cut a piece of wax paper the same size as the bottom of the pan and put in before pouring in the batter. That way the bottom of the bread always comes out of the pan. Just peel off the paper after removing from the pan.
For more Homemade Christmas ideas visit Simply Vintagegirl.