I love these years. These "big" years.
When they were little they chattered . . . a lot. We have conversations now. Lots of them. So now we chatter together.
When they were little they painted and made messes. I cleaned the messes. Now they clean their own messes and still paint.
When they were little they wanted to push the buttons on the computer and camera. Now they have their own buttons and create masterpieces.
"Fat souls are better than clean floors." A quote read by daughter #1 from Loving the Little Years by Rachel Jankovic.
"Children are individuals and they don't forget that." Another snippet from the above mentioned book.
When we read books we can't help but share with each other what we are reading. It's sweet, they like to read to me now.
The oldest girl says she can see the glimmer in my eyes as I sit here typing on her laptop. Ha. She says that I must be typing something poetic about her as she laughs out loud.
She says, "can I read one more thing? This is cute . . . ."
These girls are so funny, they make me laugh.
Yep, little girls grown up. I love these years.
. . . and this is unusual!
Every fall, every August, September and October of my life I have suffered with hayfever. And I am usually a mess.
This year, I am not a mess and it is not normal for me.
The only thing different this year is that I have gone "gluten-free" with my diet.
Yes, that is all that I have done. No medications, just no gluten.
Am I completely healed? No, I still sneeze occasionally and blow my nose. But for someone with severe hayfever symptoms the key word here is occasionally.
So we are doing a happy dance in our home and Kleenex brand can just keep a bigger supply of tissues this year.
Squeals!
I obviously haven't been blogging much, so what have I been up to?
Over the past couple of months our family has taken two trips, realized that some members of our family need to be on a gluten-free diet, learning how to cook gluten-free, and over-seeing some new projects.
And….coming to the end of being an active homeschool mom. Yep. Emily Rose is finishing her last year of "official" home education and will be graduating.  However, I will always be a homeschool mom. I am not giving up that title! It has been such a wonderful title, I think it should be on my grave stone someday as well. Something like, "The Lord blessed her by allowing her to be a homeschool mom."
Where did the first caveman get his wife?
Why do people ask "Where did Cain get his wife?"
Shouldn't the question be "Where did the caveman get his wife?"
Could a male and female evolve at exactly the same time to reproduce?
And how much evolving would they have to do simultaneously to reproduce?
And how did they know to evolve separately into male and female?
I thought "cavemen" were supposed to be, you know, sort of dumb.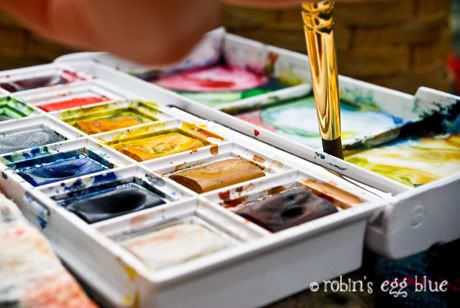 This past Sunday was a beautiful fall day. Warm and sunny, light breeze-just perfect. We decided to take the blankets out and just hang out in the back yard. Of course, the paints and the camera came, too.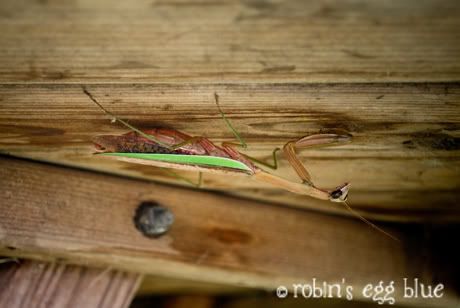 Emily spotted this praying mantis underneath the picnic table.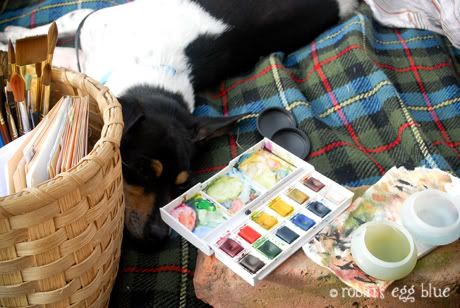 Breezy brought her pocket palette and basket of supplies. Bently enjoyed the sun by snoozing and rolling around on the blanket. He also drank some of Breezy's paint water when she wasn't looking.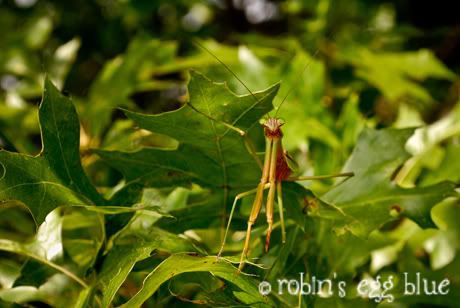 I watched this praying mantis fly in from the field and land in the oak tree. When we got up to get a closer look, it turned it's head and looked right at us. Just creepy. I thought it was strange that we would see two of these on the same day.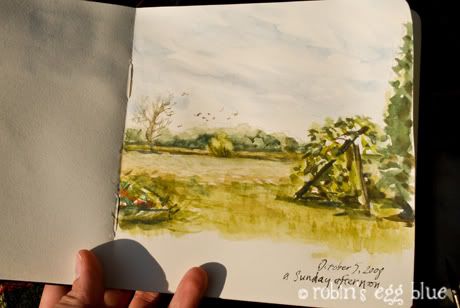 Breezy painted several little scenes, this one is looking to the southwest.
We never really made a habit of nature studies. It was always hit and miss, but over the years the girls have realized what a treasure it is to capture what we are seeing and experiencing.