Birthdays are so fun, especially when it's your children's birthdays! Emily Rose is 17 today and we are going to celebrate by letting her sew all day! :)
We have gone to antique malls in the past on her birthday, but this birthday she wanted to have an all day sewing spree. Since Rob and I are a little under the weather that will be perfect. Rob worked on her sewing machine last night and got everything working smooth. (that is an added blessing to have an upholsterer with extensive sewing machine knowledge for a dad!)
To add to the fun we like to look back at old photos to see how much we have changed so here are a few photos for you to enjoy of Emily Rose over the years. The above photo is one of my favorites, she was 4 and we had traveled to Maine with my mother. That was such a wonderful and memorable trip.

Breezy and Emily Rose -1994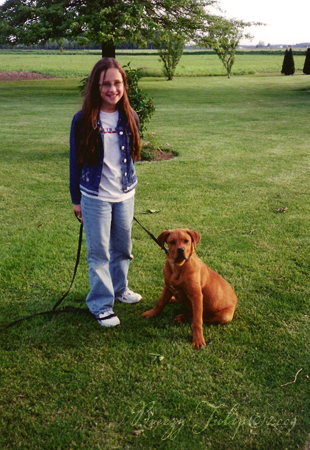 Here she is with Charlie our "little" dog in 2003. We love looking at pictures of Charlie at this time, because we had no idea how big he was going to get. He was a stray and a mutt, but as time went on we found out he had a LOT of mastiff in him. Emily Rose wrote a sweet post about our years with Charlie here. Charlie was a huge part of the girls' childhood.

And here she is again when she was around 4. She had a fun day with extended family eating watermelons and picking daisies.

This was taken in September of this year while we working on getting a shot for the back of the girls' new paper doll series. This is another of my favorites.
Breezy wrote a lovely post about Emily Rose on her blog with a few more favorite photos. I am sure that Emily Rose would love it if you would leave her a birthday wish on her blog!
3 Responses to "Happy Birthday Emily Rose!"
jenn4him
December 3rd, 2009 at 4:27 pm

Oh dear. I missed her birthday. I know it was a happy one for you all. You are a blessed family.

Jenn

watalulu
December 9th, 2009 at 5:53 pm

What Pretties you have!

Emily Elizabeth
December 26th, 2009 at 10:55 pm

I love the second picture! SO cute :)
Leave a Reply