This homemade Christmas post is more of a homemade winter post. Let me show you how I make my crocheted snowflakes.

Several years ago, I made a variety of snowflakes to use for decorations. I usually leave these these snowflakes up in a window all winter.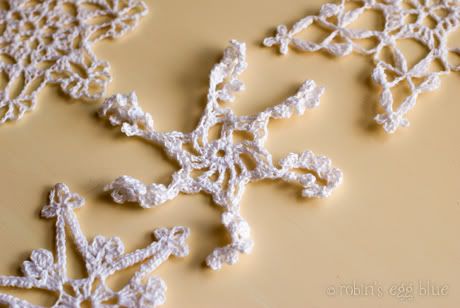 I start out using a thin cotton thread like this and a steel crochet hook like one of these.
If you already know how to crochet than these are really simple to work up. If you haven't crocheted before I would suggest doing some other practice pieces before attempting these. I found my patterns in books and magazines, but there are several free patterns online. You can find some here.
The snowflake in the middle of the picture above still needs to be stiffened.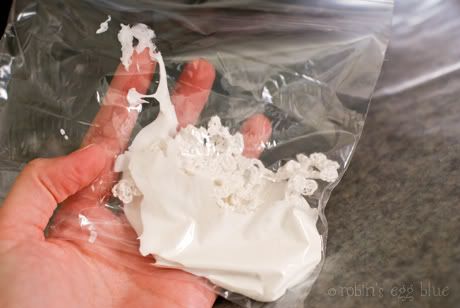 I use a glue like Aleene's Fabric Stiffener. You can put it in a little bowl or a plastic bag.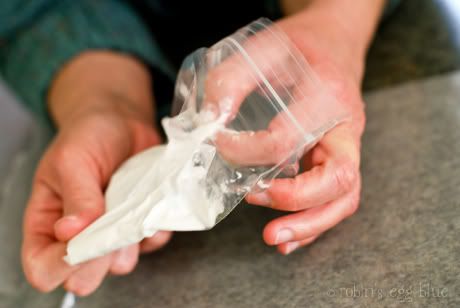 Just swirl the snowflake around in the glue to coat it, remove it making sure to squeeze out the excess glue.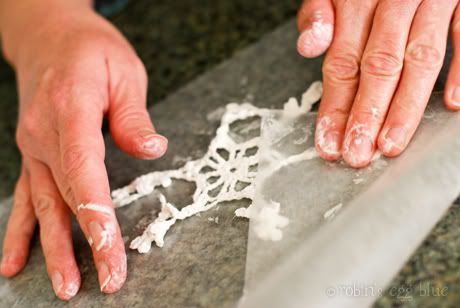 This part is a little tricky. You need to start reshaping the snowflake and making sure that nothing is twisted.
I pin it onto a piece of styrofoam that has been covered in plastic wrap.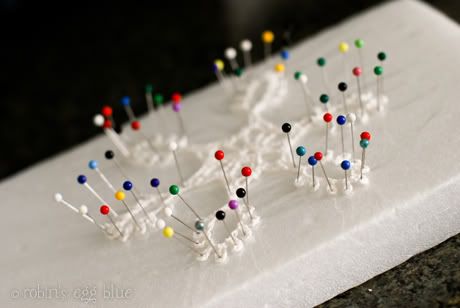 I pin all the little loops so that the snowflake is in the correct shape and then just let it dry for a day or two. An important thing to think about is the type of pins you are using. If they are not stainless steel they may leave a small rust mark, so….either take them out right away and just leave flat or make sure they are stainless steel.
When you are storing them just be sure to have them lay flat and they should keep their shape for years to come.
You can go to Simply Vintagegirl for more Homemade Christmas ideas.
I love this time of year, but sometimes we expect things to be different and become disappointed in ourselves and our families. That is really just wrong. In my case I have been dealing with a cough for over 3 weeks and it is getting old, but it is just a cough. I need to remember that!
I firmly believe that we need to just own up to our short comings and become the grace-filled sturdy women that God would have us to be. Is it hard? Sure it is. Do we fail? Sure we do.
I have been loving studying women from the past with my girls…godly women..sturdy women. It isn't all the fluffy stuff that we like to read and learn from… it's the day in and day out faithfulness in all the little things. It is their lives as a whole, what their character was, who they put their trust and hope in, what they taught their children, and how they helped their husbands that inspire us.
Our time with our families is short and precious.
How will you spend it?
To the battle front ladies!
Wondering how to bless your husband?
One way is to give him tools that encourage and teach biblically sound fatherhood!
Some of our favorite resources are on sale over at The Western Conservatory. One of my husband's favorites is the Father to Son DVD set. Yes, I know, we do not have sons, but it is still a wonderful example of mentoring your children! And, by the way, it is 50% off. Go read about it and watch the trailer here. My husband has been able to use these DVD's to help mentor other fathers, too.
So many men have not been mentored by their fathers and really don't know how to or even what it looks like to mentor their own children. This DVD set gives examples and ideas on how to do just that.
And just for a heads up, Geoff Botkin is going to be hosting an online men's mentoring season on Saturday mornings in January and February. You can read about it here.
Best price ever on the paper dolls that Breezy and Emily Rose created is happening over at Vision Forum today!! They are the featured "deal of the day".
We had a wonderful opportunity to attend the Sufficiency of Scriptures conference in Cincinnati, Ohio this past weekend and while we were there the girls were able to meet Doug and Beall Phillips. Mr. Phillips gave them an impromptu interview on his video camera, which was incredibly fun to watch happen. :) Later, Mrs. Phillips had them pose with her for a photo and you can see it here on Doug's Blog.
So back to the sale, if you have been waiting for the perfect deal to get the paper dolls, today's the day!
On another note, Life in a Shoe is giving away 3 sets of the full conference audio of the Sufficiency of Scripture conference! It was a wonderful conference and you will be greatly blessed to listen to it. So hurry over there and enter her giveaway, it ends tonight, too!
You can read more about the Sufficiency of Scriptures conference here and here at their blog, you will need to scroll through several pages to see all the photos and posts. They were doing live blogging and they have a lot of posts.