Birthdays are so fun, especially when it's your children's birthdays! Emily Rose is 17 today and we are going to celebrate by letting her sew all day! :)
We have gone to antique malls in the past on her birthday, but this birthday she wanted to have an all day sewing spree. Since Rob and I are a little under the weather that will be perfect. Rob worked on her sewing machine last night and got everything working smooth. (that is an added blessing to have an upholsterer with extensive sewing machine knowledge for a dad!)
To add to the fun we like to look back at old photos to see how much we have changed so here are a few photos for you to enjoy of Emily Rose over the years. The above photo is one of my favorites, she was 4 and we had traveled to Maine with my mother. That was such a wonderful and memorable trip.

Breezy and Emily Rose -1994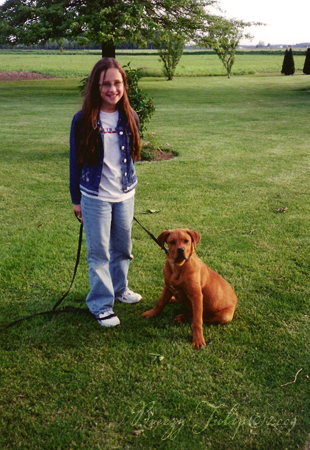 Here she is with Charlie our "little" dog in 2003. We love looking at pictures of Charlie at this time, because we had no idea how big he was going to get. He was a stray and a mutt, but as time went on we found out he had a LOT of mastiff in him. Emily Rose wrote a sweet post about our years with Charlie here. Charlie was a huge part of the girls' childhood.

And here she is again when she was around 4. She had a fun day with extended family eating watermelons and picking daisies.

This was taken in September of this year while we working on getting a shot for the back of the girls' new paper doll series. This is another of my favorites.
Breezy wrote a lovely post about Emily Rose on her blog with a few more favorite photos. I am sure that Emily Rose would love it if you would leave her a birthday wish on her blog!
A wise man's heart inclines him to the right,
but a fool's heart to the left.
Eccl. 10:2
Today's fool count: 60
Update:
That would be the 60 Senators who voted to continue down the path of a complete government takeover of our health care system.
There is just something about homemade Christmas gifts that make gift-giving so delightful. I love what
Emily Rose
said on her blog about homemade gifts –
"The one who receives the gift, sees the decoration, or enjoys the dish will know and remember that those things were not there because we ran out of time, but because we took the time."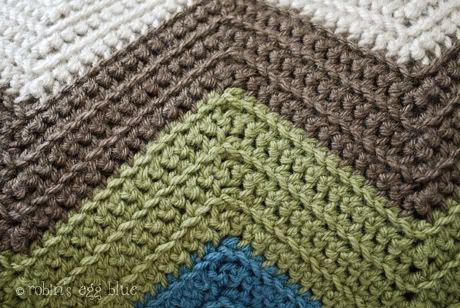 This year I have definitely been taking some time to make my daughters both an afghan. Not that I am taking my time and trying to make it seem special because it has taken me so long, it's just that I am a little slow with this project.
Last year after Christmas I was able to purchase yarn on sale so that I could make my daughters both an afghan like the one that their Great-Grandma Carmella made for my husband. We decided I would alter the pattern a bit and make it more of a wave instead of a V shape. After several months of messing with them, I decided it just wasn't going to happen; I had to keep count all the time while I was crocheting and it was not going very fast, so I unraveled all that I had crocheted and began again. This time I went back to the traditional V shape and it has gone so much faster.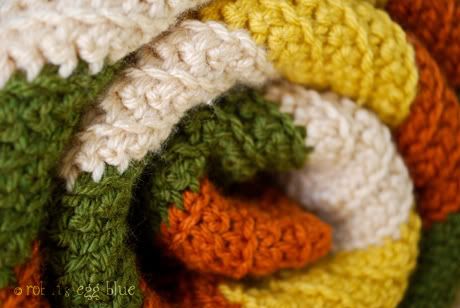 I let the girls choose their own colors. Emily Rose's is above and Breezy's is below.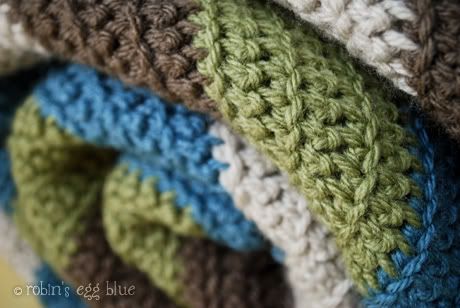 One of the challenges of making gifts for family members in the same home is trying to keep them from seeing the gift while you are making them. Since I had the girls pick out their colors and it was going to be a bigger project, I knew that I wasn't going to be able to do this in secret. As the blankets have "grown" I began to roll them up so the girls couldn't see how big they were and how much more I had to do.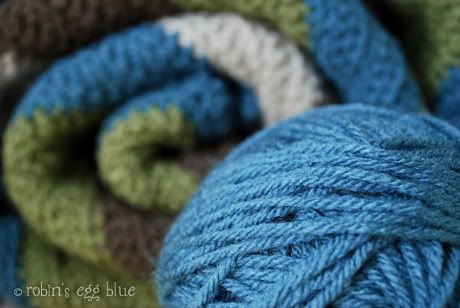 One thing that has been fun about making two at the same time is that when I grew tired of the same colors over and over I could just switch projects. I used Vanna's Choice yarn that I bought at JoAnn's Fabrics last year; it is one of my favorite yarns. The pattern that I used is called Chevron and I used this pattern as a base and then just made it much wider by about 90 stitches and I will not be adding any fringe.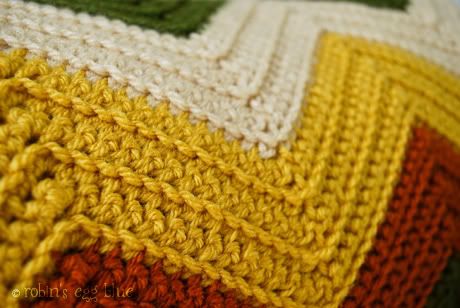 Emily Rose is hosting "A Homemade Christmas" on her blog over the next several weeks. If you want to join in on the fun of sharing ideas about homemade gifts and gleaning from others, you can click here.
Dates to participate in A Homemade Christmas:
• November 17th
• December 1st
• December 15th
• December 29th (wrap-up with projects/gifts we couldn't share before Christmas)
The main/opening dates are listed above, but the linkys will be open two weeks after the beginning date so that you have plenty of time to get in your posts.
Part of my daily reading of God's word includes a chapter of Proverbs, reading the chapter that corresponds with the day of the month. While each of the chapters in Proverbs challenge and teach, when I come to the 14th day and read chapter 14 it always makes me……pause.
The wisest of women builds her house,
but folly with her own hands tears it down.
- Proverbs 14:1
The second part of the verse makes me fearful: I do not want to tear my house down! So, what makes a woman wise? Where does that wisdom come from? How can one be wise? Does it just happen with age and experience?
God's word tells us that the beginning of wisdom is the fear of the Lord. Do I have the fear of the Lord? Really? Do I really examine everything I do in the light of God's word?
The entire chapter of Proverbs 14 is full of teaching about wisdom. Here are just a few:
The wisdom of the prudent is to discern his way. v. 8
The prudent gives thought to his ways/steps v.15
One who is wise is cautious and turns away from evil. v.16
In the fear of the Lord one has strong confidence and his children will have a refuge. v.26
Prudent and discern are two words that I really need to make sure I understand.
The 1828 Noah Webster Dictionary gives me the best definitions for these words – you can find their definitions here – prudent and discern.
So as I seek to build my house and not tear it down with my own two hands, I need to daily renew my mind with His word, I need to daily pray and plead for His wisdom and discernment, I need to daily build my house!
a little peak
Posted on November 6th, 2009
Want to read a little more about the creative process and thinking behind the creation of Daughters of His Story Paper Dolls and Noble Rose Press?
Eyebright over at Defective Compositions graciously interviewed Breezy and Emily Rose about their new endeavor. You can read that interview here.