We have been studying Philosophy with our Pageant of Philosophy articles from Tapestry of Grace, while we find them interesting someone in our household does not. The girls were reading the conversation between Simplicio and Buddha and our dog Bentley just killed over with boredom. He stayed that way for quite awhile.
I read this interesting story about socialism over at Basketflat's blog.
Then today I read this article about socialism. It sounds as though once a socialistic government gets it hands on you they don't want to let go. But why?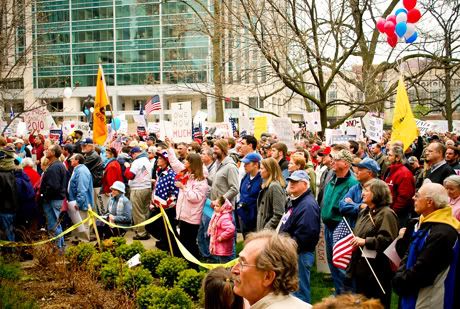 We had a wonderful turnout at the Indianapolis Tea Party yesterday. The Indianapolis Star reported that there were at least 2,000 people in attendance, but the police working the event estimated 13,000 to 15,000. That is quite a difference in reporting. We were told during the rally that they believed there were at least 10,000 present.
The mainstream media doesn't understand what is happening and is putting a ridiculous twist on the reporting of the Tax Day Tea Parties that happened all across the United States. Just so you know, we thought it was a very family friendly event.
To read about the Tea Parties and information about all the different cities that held them you can click here. It is really amazing to read about all the Americans who came together to say ENOUGH!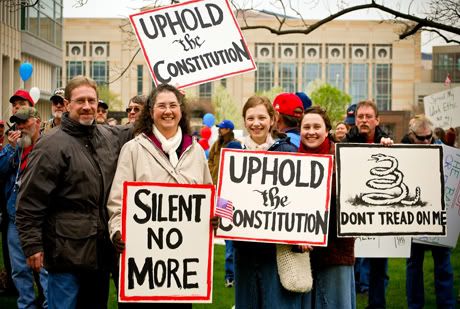 A dear friend took this picture of us before the rally began and people were still streaming in.
Have you been studying American History? We have in the past, but we are definitely diving back into it.
It is time!
Posted on April 15th, 2009
My Sweeties
Posted on April 2nd, 2009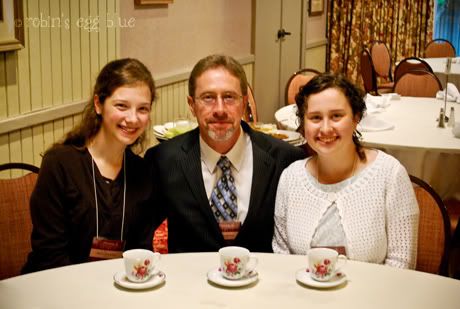 This photo was taken just this past weekend at the Vision Forum Father & Daughter Retreat in Georgia.
Emily Rose
Posted on April 1st, 2009