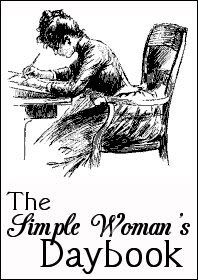 For Today… November 3, 2008
Outside my Window… a deep red sunset
I am thinking… about the election tomorrow
From the learning rooms… The girls are keeping up on their work; their favorite thing to work on besides art and graphic design is the One Year Adventure Novel.
I am thankful for… a God who is sovereign.
From the kitchen… favorite new drink, pumpkin spice lattes
I am reading… lots of election news updates
I am hoping… for a beautiful election day, one that honors God
I am creating… lots of little projects; mainly home decorations and gifts

I am hearing… little hums from the computers
Around the house… quiet right now, the girls are gone with their dad to get information on what they need to do tomorrow to help out at the election polls.
One of my favorite things… a candlelit dinner table
A few plans for the rest of the week… the girls are working at the polls tomorrow, a doctor appointment, working on preparing the garden for winter and planting some tulip bulbs while it is still nice out.
Here is a picture thought I am sharing with you…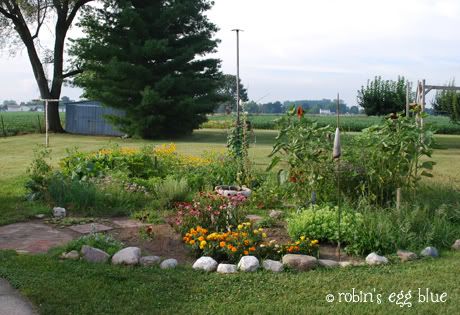 Here is a picture of our little garden from August. This was taken from my kitchen window. It is all brown and dried up now.
3 Responses to "Simple Woman's Daybook"
jenn4him
November 4th, 2008 at 3:53 pm

I am a day late, but hopefully not a dollar short. (hee, hee,hee) I love your garden photo. It is so creative, just like you. :-)

Jenn

JacqueDixonSoulRestES
November 12th, 2008 at 3:33 am

Glad to read about how you are doing.

I am really sad we have not been in touch lately.

((HUGS))

Jacque

http://jacquedixon.com

JacqueDixonSoulRestES
November 17th, 2008 at 3:19 am

That we got to see each other again already, and even unplanned?! God is so good!

Glad we got to chat this weekend. It was nice to meet your sister too!

Take care and (((HUGS)))

~J

Leave a Reply