I didn't post last week about a Homemade Christmas so I will double up here and give several recipes from our kitchen.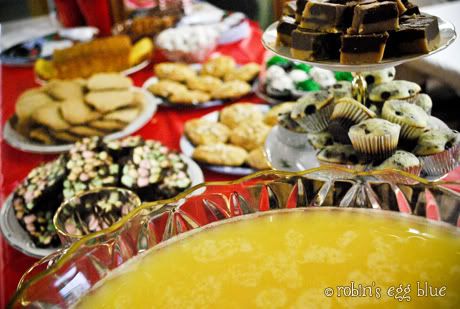 Kathy's Wonderful Banana Punch
1 12 oz. frozen lemonade, slightly thawed
2 12 oz. frozen orange juice, slightly thawed
1 46 oz. canned pineapple juice
2 cups sugar
6 cups water
5-6 smashed bananas
1 2L. Sprite or Sierra Mist
Mix first six ingredients in large freezable container, like an ice cream tub. Freeze overnight.
Put frozen punch in punch bowl an hour or two before serving, so it will start thawing. Pour Sprite over punch and let set for about 15 minutes. Take large knife (be careful) and begin to break apart frozen punch and mix it all together so that it is all slushy.
This can also just be made all at once and not frozen, like in the above photo.
This punch is from my friend, Kathy, she serves it to her family every Christmas and so we decided to do that, too. I serve this at my mother's on Christmas Day, it's a Big Hit! This picture is from a Christmas Tea Party that we had at our church last Sunday afternoon.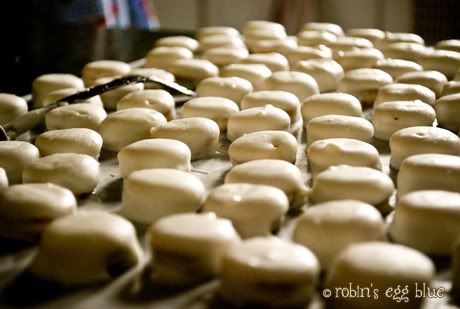 White Chocolate Covered Ritz Bits
1 pkg. white Almond Bark
1 box Peanut Butter Ritz Bits
Melt almond bark (white chocolate) according to directions on package. Dip Ritz Bits in melted chocolate and place on wax paper till set. Try not to eat them all so that you can share – that is the hardest part.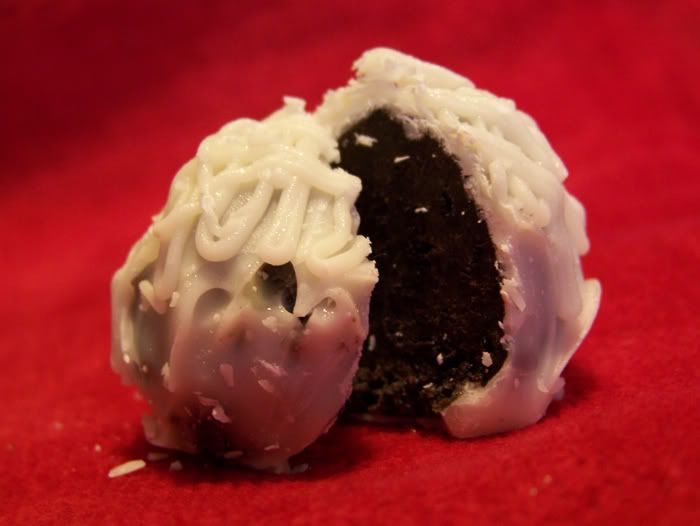 Oreo Truffles aka Beluga Babies
1 pkg. Oreos, crushed
1 8 oz. pkg. light cream cheese, softened
1 pkg. white Almond Bark
You will need a cookie sheet that will fit in your freezer.
Mix the crushed Oreos and softened cream cheese. Shape into walnut sized balls, place on wax paper that is on a cookie sheet. Place the balls on the cookie sheet in the freezer for 15 minutes. Melt almond bark according to directions on package. Dip the Oreo balls in melted almond bark and let set till hard. You can take some extra melted almond bark and put into a plastic baggie, cut a tiny bit of the corner off and drizzle a little decorative line on top of the truffles. These can be frozen. Store in refrigerator.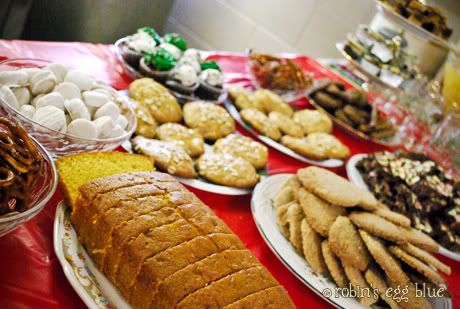 Lemon Poppy Seed Bread
1 box lemon cake mix
1 small box instant lemon pudding mix
4 eggs
1 c. water
1/2 c. oil
1 -2 tsp. poppy seed
Mix first 5 ingredients together. Stir in poppy seeds. Pour into two greased* loaf pans. Bake for 45 minutes at 350 degrees. Cool in pans 10 minutes.
*I usually cut a piece of wax paper the same size as the bottom of the pan and put in before pouring in the batter. That way the bottom of the bread always comes out of the pan. Just peel off the paper after removing from the pan.
For more Homemade Christmas ideas visit Simply Vintagegirl.
4 Responses to "A Homemade Christmas- Goodies from the Kitchen"
Leave a Reply